Screening
Below is the program for August 29th, 2015.
This is one of our official movie nights – come in anime cosplay for free entry.
Hopefully the weather will be kind.
We will have a couple of items from the Young Animators Award winners, and old OAV from 2006, plus a preview item involving vampires. Aren't we good to you!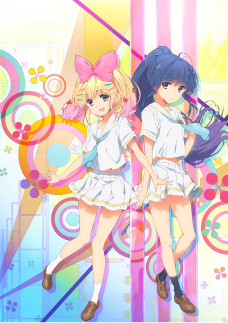 All items in the original Japanese language with English subtitles.
| | | | |
| --- | --- | --- | --- |
| 5:15pm | Kamisama Hajimemashita, 2nd season | Ep 4/12 | |
| 6:05pm | Shirobako | Ep 3/24 | |
| 6:30pm | dinner break | | |
| 7:15pm | door prize drawing, and announcements | | |
| 7:30pm | Ongaku Shoujou | OAV | |
| 7:55pm | Junk Town | OAV | |
| 8:10pm | Little Witch Academy: The Enchanted Parade | movie | |
| 9:00pm | Amagi Brilliant Park | Ep 8/13 | |
| 9:25pm | Late Break | | |
| 9:30pm | Seraph of the End | Ep 1 | (v) (preview) |
| 9:55pm | Akame ga Kill | Ep 13/24 | (v) |
| 10:20pm | Fate/Stay Night: Unlimited Blade Works | Ep 10/25 | |
Doors Open Screening:~4:55 PM
Program Finishes:~10:55 PM
Dates of Interest
August 27th to September 9th – Attack on Titan" live action movie part 1 at cinemas, check here.
Saturday September 12th – 4PM Luna Leederville – reelanime subtitled showing the "Love Live" movie. JAFWA co-founder Michael Studte prepared to pay the cost of a JAFWA attendee's ticket to watch this, and he will be at JAFWA this week to get people's details. This will cause you to miss first part of JAFWA that night, so difficult choice. More details below.
Saturday September 26th – Next JAFWA event afternoon for make your own fun.
October 3rd – Look forward to Yobe Chibi-con
.
JAFWA previewed the first episode of "Love Live! School Idol Project" back in June 2013, but it didn't quite prove popular enough to get into the regular program.
And don't forget the other theatrical releases forthcoming from reelanime.
Love Live! The School Idol Movie
100 minutes
Luna Palace Cinemas Leederville will be screening the new feature based on the hit Japanese anime series and #1 film at the Japanese box office Love Live! The School Idol Movie (Rating TBC expected PG) for One Screening Only on Saturday 12 September at 4.00m at Luna Leederville.
When their school was at risk of shutting down, nine students came together in order to save their school. How could they save it? By becoming school idols! And thus the legend of ?'s ("Muse") began!
Now, three of the members are graduating. What will happen to the group? With the clock ticking on their school idol life, the girls decide to hold one last, great concert. But first they'll need more publicity… In order to spread the appeal of school idols, the girls travel to America!
Will they go out with a bang or a sizzle? Will they find the true meaning of school idols? And will they learn the answer to this question… "whose sake do you sing for?"
The Love Live Movie was the #1 film at the Japanese box office for three weeks in a row, beating Mad Max: Fury Road and Tomorrowland! This is movie follow-up to the popular two-season long anime. The latest u's CD topped the weekly charts in Japan and achieved Gold status whilst the free IOS/Android rhythm game released in Japanese in 2013 and in English in 2014. reached over 2,000,000 players for the English version alone
One screening only – Saturday 12 September at 4.00pm Luna Leederville (Japanese with English subtitles)
*Free poster per ticket purchased. Limited autographed boards for best Dressed !
Synopsis
Kamisama Hajimemashita, 2nd Season
Momozono Nanami continues to serve as the Earth Deity of the Mikage Shrine, and the fox spirit Tomoe continues to serve as her familiar. Their feelings for each other are becoming harder to ignore, but Nanami's duties as an Earth Deity won't wait. And an old friend of Tomoe's is starting to stir up trouble…
Tonight's Episodes: "The Deity Races Across the Netherworld"
Whilst Tomoe grows despondent back at the Mikage shrine, and has to impersonate Nanami at school, the real Nanami has been assigned a task by Okuninushi, the deity hosting the Divine Assembly; re-seal the barrier that leads to the Netherworld. It's only open because of the dark haired young man Nanami met back in Tokyo, he is in fact the infamous youkai Akurah-oh here to recover his real body, although he introduces himself to Nanami as Kirihito. And now he and Nanami have been invited to the abode of Izanami, the goddess in charge of the Netherworld.
Fairy Tail
Magic and mayhem in the nation of Fiore. The members of the infamous mage's guild Fairy Tail spend their days sorting out problems for the residents of Magnolia and battling the odd apocalyptic demon or dark guild. Of course they don't let little things like that get in the way of having fun.
Tonight's Episodes: "The Perfume I Dedicate to You"
The Grand Magic Games continue. With the next game, Naval Battle, being about forcing your opponents out of a large sphere of water Juvia looked set to outclass even Lucy and her Celestial Spirit Aquarius. But Minnerva, the new team member for Sabertooth, is a match for both of them. She teleports Juvia out of the sphere and proceeds to toy with Lucy, but then gets so annoyed by Lucy's words of defiance, she decides instead to beat her to death. Something the Captain of the Guard frantically tries to stop. His secret plan requires a living Celestial Spirit Mage.
Shirobako
Aoi Miyamori and her four friends made up the Animation club at their high school, and all five of them aimed to go into the Anime industry after graduation. Now Aoi, like her friends, has made her dream come true. She works for Musashino Animation, a little studio in Tokyo. The job comes with all sorts of challenges and stresses but Aoi wouldn't be here if it wasn't something she wanted to do.
Tonight's Episodes: "No Recap Episode for Me!"
With Segawa ill from overwork, Aoi has to beg Endou Ryousuke to take over her animation direction for episode 4. Each episode of Exodus! is cutting it closer to the air date. And then to everyone's horror, director Kinoshita Shinichi suddenly decides he wants to completely rework the main characters. An emergency meeting is held, and through a combination of Aoi's diplomacy and president Masato's good food, the team agrees to the director's request. Ogasawara Rinko, the unflappable assistant animation director, now has her work cut out for her.
OVA – Ongaku Shoujou (Music Girls)
After a chance meeting one day, the quiet and down-to-earth Kumagai Eri is introduced to the energetic and eccentric Chitose Haru (… not her real name). A new transfer student to her school and an enthusiastic fan of singing. Something Eri at least pretends not to be interested in.
OAV – Garakuta no Machi (Junk town)
One summer day, a young boy encounters a little robot at a shopping arcade–a hungry little robot, it turns out, as he devours one machine after the other, growing in size with each "meal".
Movie – Little Witch Academy: The Enchanted Parade
Akko Kagari, adoring fan of the celebrity witch Shiny Chariot and overeager student at Luna Nova Magical Academy, along with her friends and classmates the bookish Lotte Yanson and the poison obsessed Sucy Manbavaran, has so far managed to survive both the bullying of other students and the rampage of a magic-eating dragon. But after a classroom exercise goes awry, she and her friends are facing expulsion unless they can work together with another trio of problem students to make the annual witch's parade a success.
Amagi Brilliant Park
Amagi Brilliant Park is an amusement park, a place of magical wonder and whimsy. Or at least it's supposed to be. The park has fallen on hard times and that's bad news for the staff. Who genuinely are magical. There's no place for these oddballs from a fantasy world except an amusement park, so they need theirs to stay open. That's where Kanie Seiya comes in, a pompous high school student and burned out child star is the perfect person to manage this particular mad-house.
Tonight's Episode: "Not Enough Love!"
What seemed like certain disaster has been turned around. Thanks to the terrifying appearance of Jaw when he gets wet, the dread walrus pirate Ironbeard and his seal crew have been subdued and forced to work for the park for free all summer. It's a new and reasonably popular attraction, and the numbers have picked up enough that even the smug Takaya from Amagi Development came to find out the reason. And so just as it looks like things are starting to pick up, Kanie gets ill, and Macaron gets a new toy to play with …
Preview Item – Owari no Seraph (Seraph of the End)
Hyakuya Yuichirou was one of the survivors, one of the children spared by the virus that wiped out the rest of humanity. Taken as a slave and involuntary blood donor by the vampires that emerged onto the earth that same night, Yuichirou eventually escaped and joined the Moon Demon Company, a unit of vampire hunters, with one goal; kill every vampire in the world as revenge for what they did those he cared for
Tonight's Episode: "The World of Blood Legacy"
It is a cold night, and at first nothing seems out of the ordinary. Then, one person suddenly collapses on the street, and another, and another. Soon there is nothing but the dead and dying … and the undead. A procession of robed figures moves amongst the carnage. And as a group of scared children rush home to Hyakuya Orphanage, a voice can be heard over a loudspeaker. The viral outbreak, it says, is the fault of foolish humans. Humanity, it says, has come to an end … save for those children under twelve who are to be taken into protective custody, underground.
Akame ga Kill (Red-Eye Kill)
Tatsumi was hoping to find enough money in the capital to save his poverty stricken village, what he found instead was corruption and slaughter. The prime minister is the power behind the throne, manipulating the infant emperor for his own gain, and the common folk of the empire suffer under his reign. A group of assassins known as Night Raid prowl the city, leaving a trail of corpses in their wake. But as Tatsumi quickly discovers, they may be the only hope the empire has.
Tonight's Episode: "Kill the Giant Danger Beast"
Having moved into a new secret base Night Raid gets to work on their next job; clearing out a new type of Danger Beast around the capitol. Their new female member, Chelsea, considers this kind of work unnecessary, especially since the Empire is also hunting the monsters. Indeed, General Esdeath's investigations suggest they are experiments of the late Dr Stylish, although that doesn't explain how they got loose. There's a bigger problem for Night Raid, however. In the midst of his patrol, Tatsumi has gone and run into the lovesick Esdeath again.
Fate/Stay Night: Unlimited Blade Works
Shirou Emiya, a high school student and amateur magus living in Fuyuki City, finds himself a participant in the Fifth Holy Grail War. A secret tournament between mages and their servants, reincarnated heroes and legendary figures, to claim the Holy Grail; a chalice that can grant any wish.
Tonight's Episode: "The Fifth Contractor"
To prevent future kidnappings or murder attempts, Saber moves her sleeping quarters to just outside Shirou's. The now Servant-less Shinji runs to Kirei's church for sanctuary, and there in the midst of a tirade blaming all his failures on his dead servant, he is informed there is another one available. The ongoing search for Caster's (most likely enslaved) Master continues with Issei now ruled out despite living at Ryuudou temple. And Shirou is forced to reflect on the admittedly childish notion of becoming a champion of justice simply because he saw his adopted father as one.